2020 FIAF Online International Symposium

"Prevention and Management of Natural and Human Disasters in Film Archives"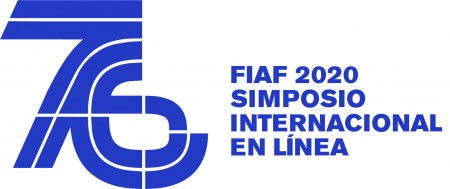 The 2020 FIAF Online International Symposium is now over.

The full schedule of the Online International Symposium is available HERE in English, HERE in Spanish, and HERE in French.

The video-recorded presentations are available HERE (English channel), HERE (French channel), and HERE (Spanish channel).

Introduction
The Online Symposium on "Prevention and Management of Natural and Human Disasters in Film Archives" will take place from Monday 28 September to Thursday 1 October this year. It is organized by the International Federation of Film Archives (FIAF) and the Filmoteca de la UNAM.
Although the symposium could not take place as planned as part of the FIAF congress on April 20 and 21 in Mexico City, due to the COVID-19 pandemic, we are very pleased to offer you this new opportunity to share our knowledge and experiences. This online event should allow us to reflect on, and update, the symposium's original theme, which had attracted widespread interest and attention. Under the current circumstances of the COVID-19 pandemic, we can also reflect on the impact that this and other health crises can have on our archives.
Originally, we had associated the issue of disaster directly with the consequences of climate change worldwide and with the existing limitations in the preventive and protection measures implemented in our archives. Today the world presents us with an unprecedented scenario of great uncertainties and challenges, but also of incredible opportunities to improve our lives. Our cinematographic and audiovisual memory is preserved as a collective ritual, through its public space and our collective analysis and reflection. The best way to get through this nightmare is to face it together, to be able to breathe again. Can we rethink together this great catastrophe and its possible ways out? Climate change has very diverse repercussions, since it affects all areas of our existence, from viruses to cyclones to wildfires. And yet, if we cannot anticipate everything or control everything, we as a community of film archives know that we can meet up to discuss and propose various solutions to these challenges. This online symposium is an invitation to do so.
Hugo Villa-Smythe

Director of the Filmoteca de la UNAM