Cataloguing & Documentation Commission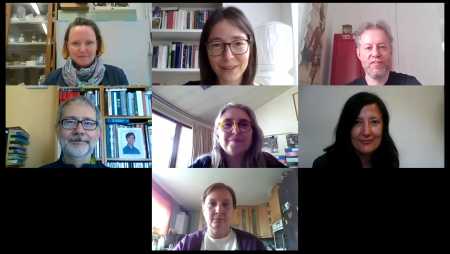 The CDC in 2021

The mission of the Cataloguing and Documentation Commission is to promote the exchange of information, expertise, and materials among FIAF colleagues and others in the areas of film cataloguing and of documentation related to the cinema. We define documentation related to the cinema as any records containing information generated in the pre-production, production, publicity, distribution, exhibition and merchandising, study, and archiving of film. Film cataloguing encompasses the creation and use of guidelines, standards and rule interpretations for describing moving image collections in archives. Our goals are to survey and standardize working procedures in the areas of cataloguing and documentation in film archives, to encourage interoperability of systems, and to facilitate exchange at all levels. To achieve these goals, the members of the Commission meet regularly, conduct workshops, present and publish papers, and contribute to the Commission's ongoing projects.
Commission members revised the FIAF Cataloguing Rules, now titled the FIAF Moving Image Cataloguing Manual, which was released as an e-publication in May 2016. The Commission continues to develop the revised Glossary of Filmographic Terms, which currently offers translations in twelve languages. Commission members also regularly contribute to the International Index to Film Periodicals; the International Directory of Film/TV Documentation Collections; and Treasures from the Film Archives, which are all available via FIAF Databases Online. Past publications of the Cataloguing and Documentation Commissions include the FIAF Cataloguing Rules; the Glossary of Filmographic Terms; the FIAF Classification Scheme for Literature on Film and Television; the Bibliography of National Filmographies; and the Bibliography of FIAF Affiliates' Publications, among many others. Most are freely available on the FIAF website.
The Cataloguing and Documentation Commission has always intended that its work should benefit both FIAF itself and international film culture in general.
You can write to the FIAF Cataloguing and Documentation Commission at cdc@fiafnet.org.
Commission Members
Head:
Adelheid Heftberger, Bundesarchiv, Berlin
Members:
Anna Fiaccarini, Fondazione Cineteca di Bologna, Bologna (Deputy Head)
Natasha Fairbairn, BFI National Archive, London
Rutger Penne, FIAF – Periodicals Indexing Project, Brussels (ex-officio)
Siobhan Piekarek, Filmmuseum Potsdam, Potsdam

Maria Assunta Pimpinelli, Fondazione Centro Sperimentale di Cinematografia / Cineteca Nazionale, Rome
Circe Itzel Sánchez González, UNAM, Mexico City
Mats Skärstrand, Swedish Film Institute, Stockholm
Elżbieta Wysocka, Filmoteka Narodowa - Instytut Audiowizualny (FINA), Warsaw
FIAF Executive Committee Interlocutor: Michael Loebenstein