Journal of Film Preservation:
Latest Issue - #105, November 2020
This issue is available for free HERE.

Order a print copy of the latest issue or subscribe to the Journal of Film Preservation HERE.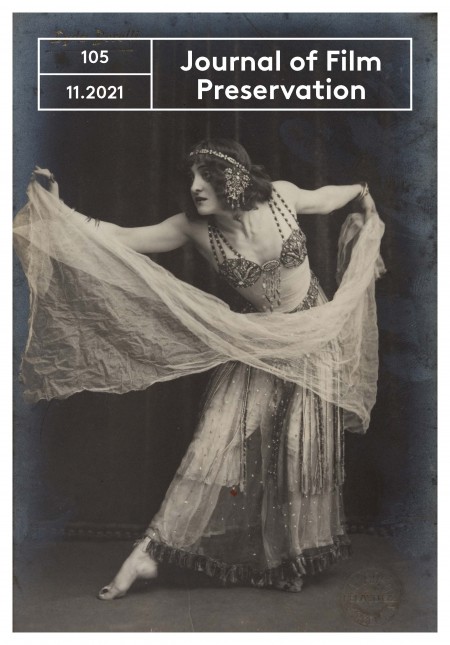 EDITORIAL

Elaine Burrows | 5

OPEN FORUM
How-To: Sharing Knowledge Among Generations of Archivists
Janneke van Dalen, Nadja Šičarov, Tania Aparicio, and Karen F. Gracy | 13
Un protocolo para la digitalización de pequeños formatos
Nerea Ganzarain y Carlos Saldaña | 23
Out-of-commerce Copyright Works in EU Film Archives: A Solution?
Melanie Stockton-Brown | 29
Photography in the Service of Cinema: Still Photography in Early Italian Silent Films
Roberta Basano | 39

Merging Murnau: Wikibase and Linked Open Data for Archives
Paul Duchesne and Adelheid Heftberger | 47

Connecting and Cataloguing During COVID-19
Michelle Kirby | 55

Madeline Matz (1936–2021)
Kim Tomadjoglou and Jon Gartenberg | 61

Vittorio Boarini (1935–2021)
Gian Luca Farinelli | 65

HISTORY
Film Preservation in Estonia: Past Spatial Futures
73 | Eva Näripea

Interview with David Francis Part I
89 | Rachael Stoeltje
ARCHIVES AT WORK
Une Idée du monde selon Berthold Bartosch
107 | Jean-Baptiste Garnero

Resisting Xenophobia: Restoring Die Stadt ohne Juden
115 | Fumiko Tsuneishi

La vida posterior de los hechos. Algunos hitos de la recuperación de Un Verano Feliz (1972)
127 | Felipe Montalva Peroni


REVIEWS
The Cinema in Flux, The Evolution of Motion Picture Technology from the Magic Lantern to the Digital Era
138 | Laurent Mannoni

Scratches and Glitches: Observations on Preserving and Exhibiting Cinema in the Early 21st Century
141 | Floris Paalman

Le Scénario : une source pour l'histoire du cinéma
144 | Michel Cadé

Special Effects and German Silent Film
Vanessa Scharrer | 146

Furia española. Vida, obra, opiniones y milagros de Luis García Berlanga (1921-2021), cineasta
Ramón Alfonso Cayón | 148

Augusto Genina: Il prezzo della bellezza /The Price of Beauty, Quattro film (1918–1930)
Elena Dagrada | 151

Szaleńcy/Daredevils
Michael Brooke | 154

Maria Lassnig – Film Works
Helen de Witt | 157

Les Sorcières de l'Orient/ The Witches of the Orient/Tōyō no Majo
Hisashi Okajima | 161
FIAF BOOKSHOP