6th FIAF Programming Winter School
25-26 February and 1-2 March 2021, online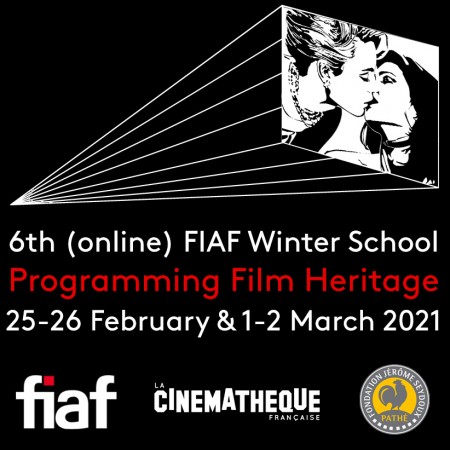 The full Programme is available in English and in French.
The participants' and speakers' contributions to the FIAF Programming Game are available here.
Presentation of the course
In the spring of 2021, for the sixth FIAF Winter School, FIAF joins forces with the Cinémathèque française and the Fondation Jérôme Seydoux-Pathé to offer a short training course aimed primarily at professionals in FIAF archives and beyond. The general theme of this specialized course is still "Programming Film Heritage", and will once again be taught by experienced professionals from our sector, most of them programmers in film archives affiliated to FIAF. Because of the context, this sixth edition will take place as a online event over four half days, on Thursday 25 and Friday 26 February, Monday 1 and Tuesday 2 March 2020.
Following the success of the first five Winter Schools, the positive feedback of the students, and their thematic suggestions for further lectures and workshops, the organizers thought that there was still a lot to discuss and learn about the topic of programming film heritage, and that a fifth course could introduce topics not or little covered before, explore further those already covered in the last four years, and ask distinguished programmers to share their experience with our participants.

The programme of this 6th edition is now available in English and in French. It will include sessions on online programming in a context of crisis, programming amateur films, the montage of archival films as an extension to programming, programming for unusual or remote audiences, histories of programming, and our usual portrait of an experienced programmer. This year, we will also ask all participants to take an active part in the event by asking them to submit programmes as part of the FIAF programming game ahead of the Winter School, and discuss them during the event in various dedicated sessions.

Lecturers
The classes will be taught by 30 programming experts from the global network of FIAF archives and beyond, and other distinguised professionals in a relevant field. See the full programme in English and in French to learn more about this year's 30 speakers.

Registration

We have decided not to charge any fee for this exceptional online edition. However, it has been decided, for reasons of participant comfort and interactivity between participants and speakers, to limit the number of participants to 50, as in previous years. The selection will be made on the basis of the information contained in the form below, so please fill it in as accurately as possible. Submitting this completed form does not guarantee your participation in the forthcoming Winter School.
Please also note that places will not be allocated on a "first come, first served" basis, and that priority will be given to employees of FIAF-affiliated institutions, although a number of places will be open for external participants, as in previous years.

28 January 2021 update: Registrations are now closed.

5 February 2021 update: Selected candidates have been notified.
Previous Winter Schools

You can find information about previous FIAF/Cinémathèque Programming Winter Schools on this page.

Contact
For more information, please email winterschool@fiafnet.org.

The organizing committee of the sixth Winter School is composed of Christophe Dupin (FIAF), Bernard Benoliel and Elise Girard (Cinémathèque française), and Samantha Leroy (Fondation Jérôme Seydoux-Pathé).