Physical Characteristics of Early Films as Aids to Identification
(New expanded edition)


Released 30 November 2020.

You can order it HERE.

Note that if you are located in North America, it might be cheaper and quicker for you to order it via Indiana University Press, our distributor in that part of the world.
A short list of errata for this new edition can be found HERE.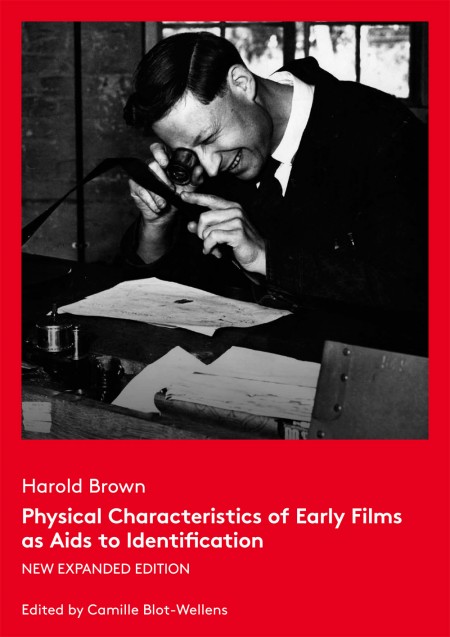 Any archivists who have held a piece of film in their hands, wondering how to go about identifying it, recognize the true value of film preservationist Harold Brown's work. In 1967 Brown delivered a pioneering lecture on the identification of early films at the annual Congress of the International Federation of Film Archives (FIAF) in East Berlin. Years of working with Britain's National Film Archive collections, and the close examination of thousands of nitrate prints of the silent period, made Brown a leading authority on early film identification, and an unsurpassed model of methodological consciousness in the archival field.
In 1990, FIAF published Brown's Physical Characteristics of Early Films as Aids to Identification, an updated version and a continuation of his 1967 lecture. This publication has long been archivists' trusted companion, constituting a concentrated encyclopedia on all the information that can be discovered or verified through aspects of the film other than the actual projected image – such as perforation shapes; embossed and punched marks; stock manufacturers' and producers' edge marks; frame characteristics; title styles; and production serial numbers. It also included essays on key individual production companies of the silent era.
Over the last 30 years, this manual – a basic type-written 100-page volume (including 20 pages of black & white illustrations), with its easily recognizable red cover – has been an invaluable reference for film archivists and scholars. However, as Brown himself acknowledged in the 1990 edition, the manual was far from definitive.
Camille Blot-Wellens, the editor of this new, expanded edition of Brown's 1990 book, belongs to the new generation of researchers who have used Physical Characteristics extensively in their work and have gathered considerable new information on the subject. This new edition is the result of a project she initiated in 2014 with FIAF's support. Brown's original text is now augmented with new original research on key film manufacturers and producers by Camille Blot-Wellens and other leading archivists and researchers in the field.
Richly illustrated, this 336-page new edition of Harold Brown's seminal manual will be welcomed by many, and will no doubt become a must-have working tool for many in the film archiving and academic fields.

Harold Brown, Camille Blot-Wellens (ed), Physical Characteristics of Early Films as Aids to Identification: New Expanded Edition, FIAF: 2020, 336p., ISBN 9782960029697.