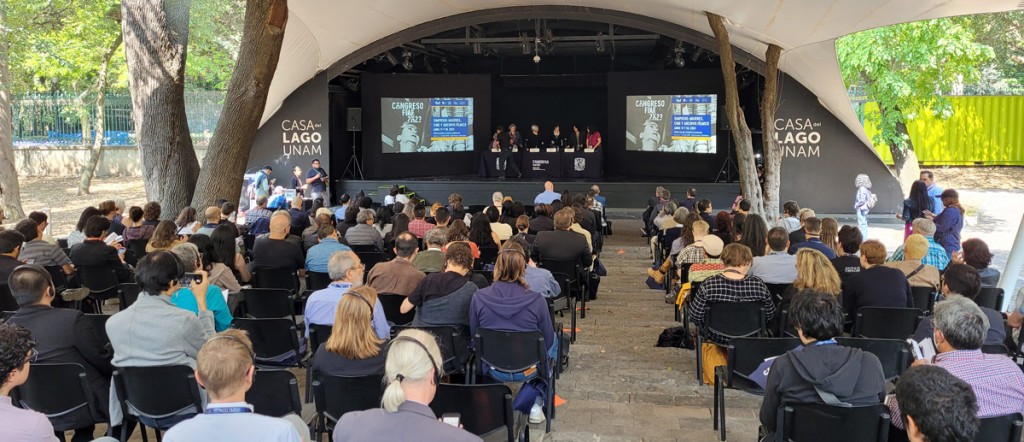 2023 FIAF Mexico City Symposium

Women, Cinema and Film Archives
Casa del lago UNAM, Mexico City, 17-18 April 2023

This symposium proposed a meeting to reveal the crossroads between the struggles for equity and archival work, to produce a historical review of the patriarchal imprint in our practices and to devise strategies that transform the shared present with a view to a more dignified future for people dedicated to film preservation and their audiences.
With sessions dedicated to the impulse of women in the safeguarding of film heritage; good practices for gender equality in the archive; the celebration of women pioneers and agents of change in preservation; the gender analysis of film collections and curatorial work, as well as the recognition of the heterogeneity of women's professions in cinema, the responsibility of this symposium was to suggest another path, one that complements the narrative of the recovery with a compass radically different from that of the historical continuation.
The scientific committee was composed of Mariana Gándara, Executive Coordinator, Bergman Chair in Film and Theater, UNAM (Mexico City),Erika Arroyo, Communications, Bergman Chair in Film and Theater, UNAM (Mexico City), Mariona Bruzzo, Head of Film Archive, Filmoteca De Catalunya - ICEC (Barcelona), Karen Chan, Executive Director, Asian Film Archive (Singapore),Mariana Domínguez Ceja, Institutional Liaison, Filmoteca UNAM (Mexico City),Maria Assunta Pimpinelli, Head of Film Collections, Fondazione Centro Sperimentale di Cinematografia - Cineteca Nazionale (Rome), and Chalida Uabumrungjit, Director, Thai Film Archive (Bangkok).
Click on each of the images below to access the programme and video recording of the corresponding Symposium session. Please forgive us for the not always perfect quality of the sound and image. Please note also that the presentations were delivered in one of the three official FIAF languages and that these video-recordings do not include subtitles or audio-translation.