Biennial Audio-Visual Archival Summer School (BAVASS) 2023

10-19 October 2023
Applications for registration are now closed and the event has taken place.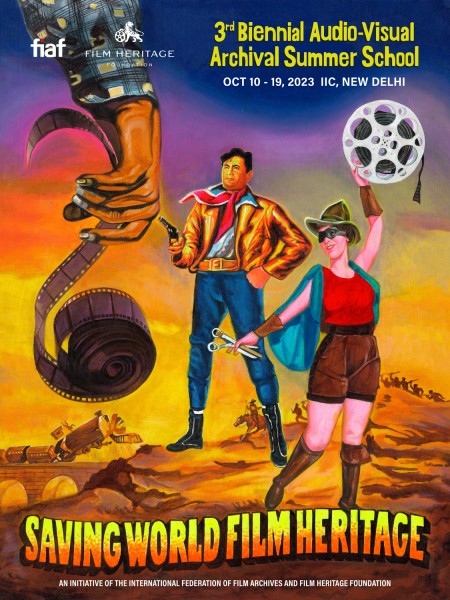 With financial support from:

FIAF, in partnership with Film Heritage Foundation, will be conducting the 3rd edition of the Biennial Audio-Visual Archival Summer School (BAVASS) at the India International Centre, New Delhi from 10 to 19 October 2023.

Audio-visual collections age, deteriorate, and expand exponentially in the digital age; therefore, it has become vitally important to invest in training, outreach, and assistance programs aimed at providing guidance to professionals whose responsibility is preservation and access.
This 10-day comprehensive summer school will cover the complete range of the issues and topics required to work in the field of audio-visual preservation and will be taught by an international faculty of experts in the field.
The summer school will include both lectures and hands-on sessions on film, video, audio and digital preservation, film conservation and restoration, digitization, disaster recovery, cataloguing, copyright, programming, and much more. Classes will be followed by daily evening screenings of restored films from around the world. Note that the course will be conducted in English only.

BAVASS 2023 is open to applicants from all over the world. Applicants will have the option of applying for one of a number of discretionary scholarships in cases where they would otherwise not be able to attend, in order to assist with registration and travel costs (see below).

Higlights of BAVASS 2023
10-day comprehensive workshop will comprise a complete range of the issues and topics in the field of audio-visual preservation. The workshop schedule will include lectures and practical sessions from 9 a.m. – 5 p.m.
Open to applicants from around the world.
Target audience: Film archive staff, typically at junior level; AV professionals wishing to learn about archiving; students studying media and related topics; individuals with a keen interest in AV archiving.
The rigorous training programme will cover both lectures and hands on sessions on film preservation and conservation, film restoration, digitization, disaster recovery simulation, cataloguing, programming and many more.
The course will be taught by experts in their fields from premier audio-visual archives all over the world.
The course will include daily film screenings of restored classics from around the world.
Intended Outcome of the Training Programme
Once completed, the participants will have a wide understanding of issues and topics required to work in the field of audio-visual archiving and preservation;
Participants will have acquired the basic tools to preserve and digitize audio-visual material;
Participants will have learned the concepts used to restore a film using digital and analogue technologies;
Participants will have learned about disaster preparedness and response;
Participants will have become a part of a collaborative network of like-minded media archivists committed to the cause of preserving their cultural heritage.
BAVASS 2023 Course Content
Digital Management

Digital technology: digital basics; AV file structure; compression; colour spaces
Digital preservation: principles; file validation; checksums and fixity; born digital material
Digital infrastructure and management: infrastructure; practical aspects of managing AV files
Digital tools: use of open source resources
Digitisation

Audiotape: audiotape technology; digitisation; quality control
Videotape: videotape technology; digitisation, and common videotape problems; quality control
Soundtracks: soundtrack technology; digitisation; ethical considerations
Film digitisation: film scanners and scanning
Film digitisation: film scanning
Film digitisation: post-scanning work; digitisation workflows; quality control
Film restoration ethics and practice

Film

Film technology
Small gauge film
Film identification and selection
Film hands-on: handling; repair

Collection policies

Collection development; acquisition policies and procedures
Practical steps to accessioning a collection
Born digital: acquisition specifications; procedures

Access

Users: defining principal users; what information they need; what information to give
Online access requirements and methods
Film programming and festivals
Copyright

Documentation

FIAF cataloguing principles
Cataloguing practice in different scenarios

Archive management

History of film archives
Archive advocacy and funding strategies
Disaster preparedness
Preservation strategies
Preservation strategies all groups exercise

Film-related material

Paper conservation
Photograph conservation
Registration / Costs
Timeframe: Applications for registration are now closed. Applications will be informed of the selection committee's decision by 30 August. The deadline for the payment of tuition fees will be 10 September.

Course fees: 600 EUROS. This includes the tuition fee, lunch and two tea/coffee breaks provided daily from 11 – 19 October 2023.
Accommodation: Although you can make your own accommodation arrangements, organizers will be able to offer all participants affordable accommodation (including breakfast and dinner) near the course venue. These costs are expected to range between 450 and 650 EUROS for 12 nights, depending on the type of accommodation you opt for and whether you choose a room with single or double occupancy. Further details will be provided once you have been selected.

Participants are expected to make their own travel arrangements.

Financial Assistance
We are offering financial assistance to a limited number of BAVASS participants to offset the cost of registration, travel, and accommodation. Financial assistance will be awarded on a case-by-case basis. The amount of financial assistance will be up to 90% of the total cost, although in general the award will be less.
You will be entitled to apply for financial assistance if:
You are an employee of an archive or heritage institution suffering from significant funding issues,
You are an individual not employed or supported by a heritage institution or education establishment,
Your motivation for attending BAVASS (as set out above) is genuine and in line with FIAF's mission.
Please note that you are unlikely to receive financial assistance if you are an employee of a well-funded archive or institution, irrespective of any level of funding that they are willing to provide.
Contact
Any further questions about the course? Please contact us at training@fiafnet.org. If you would like to know more about accommodation options, please email contact@filmheritagefoundation.co.in.