Biennal Audiovisual Archiving Summer School
A FIAF and IULMIA Initiative
Indiana University, Bloomington

13-26 May 2019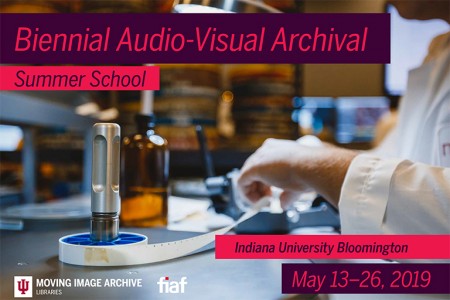 In May 2019, for two weeks, Indiana University, Bloomington was visited by 50 professional archivists, filmmakers, scholars and film projectionists from 12 countries to participate in FIAF's new training program-- the first Biennial Audio Visual Archival Summer School (BAVASS)-- a new multi-week FIAF training model built with a comprehensive curriculum of the existing issues in our field of audiovisual archiving and preservation today.
This new training model was developed as part of the FIAF Training and Outreach Program by Indiana University Moving Image Archive's Rachael Stoeltje and the FIAF's Training and Outreach Coordinator David Walsh, with the support of FIAF's Administrator Christophe Dupin. BAVASS has been built on earlier FIAF models, the advice of our FIAF predecessors and, in large part due to FIAF's David Walsh developing workshops around the world, like those created in partnership with our colleague Shivendra Singh Dungarpur through his Film Preservation and Restoration Workshops in India.
The schedule for our program allowed for lectures, hands on workshops, screenings, opportunities to meet with the school's faculty and time to build networks among the students themselves. This year's event started each morning with lectures on core issues. In the afternoons, we offered small group, hands-on workshops which students pre-selected prior to arrival. The very practical opportunities that were presented by the workshops were valued as were the tours of the cold storage vaults and the special archives and collections on the IU Campus. Evenings were filled with film screenings that specifically addressed many of the core topics being taught from restoration, to preserving the world's cultural heritage on film, to reuse of archival film for new works. All of the films were screened at the Archive's Screening Room and at the IU Cinema and all screenings were well attended by the summer school and members of the public.
To continue improving the program for future schools, and to keep the learning experience ongoing, we are evaluating the school and are creating a collaborative learning module of BAVASS. As part of the learning collaborative students will follow up the two weeks school with online meetings to discuss their successes and brainstorm solutions to challenging problems they are experiencing. This evaluation and ongoing training will allow us to customize the program for future programs as we intend to offer this program ongoing for every other year moving forward, possibly in locations around the world, to have the largest impact with this effort.
FIAF and the FIAF Training and Outreach Program, along with tremendous support from IU and the IU Libraries made this event possible. Thanks to both for their financial support which allowed us to bring all of the talented faculty to Bloomington to participate and to offer this program at an affordable rate. In addition, FIAF also most graciously offered three scholarships that allowed individuals to come to the program who may not have been able to participate otherwise. Enormous thanks to FIAF and to David Walsh and Christophe Dupin in particular for this support and partnership to have made this BAVASS so successful.
For your information, a full report on BAVASS was published in Library Journal. The Indiana University Press release about the School can be consulted here.

The official brochure of the School can be downloaded here.
Rachael Stoeltje