Audio-recordings of FIAF Meetings Now Digitized and Accessible Online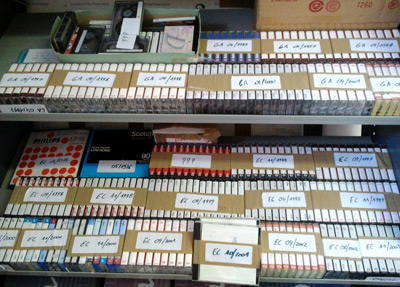 The collection of cassette tapes before they were transferred to IULMIA.

To mark the 80th birthday of the International Federation of Film Archives(FIAF), which was officially launched on 25 October 1938, and celebrate the 2018 World Day for Audiovisual Heritage, we are pleased to announce that 648 audio tapes (1/4" open reel and audio cassettes) documenting the history of FIAF Symposia, General Assemblies and Executive Committee meetings dating from 1975-2006 are now properly housed, preserved and digitized, and many of them freely accessible online.
Indiana University Libraries Moving Image Archive (IULMIA) is now the archival home of the tapes where they have been archived and digitized, with the originals now stored in IU's offsite vault which maintains 50° F and 30% RH, and the newly digitized files are stored in IU's dual geographic location data storage repositories. Copies of these high- and low-resolution files are also kept in the archive of the FIAF Secretariat in Brussels, Belgium.
These historical documents had previously been stored in the room temperature FIAF office and were not accessible, nor had these items been digitized for preservation purposes.
The digitized files of the recordings of many FIAF Executive Committee meetings, General Assemblies, and Symposia dating back to 1975 are now available to be listened to on the FIAF and IULMIA websites. Out of respect for the personal privacy of the individuals involved in those meetings, it was decided that only recordings that are 25 years or older would be accessible online. Requests for access to more recent meetings by researchers will be assessed and (where appropriate) granted on-site only.
These recordings represent an exciting new documentary source for anyone interested in the history of the FIAF and more generally of the global film archive movement. This previously unavailable material allows us to hear key leaders in our field such as Eileen Bowser, Jan de Vaal, Jacques Ledoux, Raymond Borde, David Francis, Robert Daudelin, Wolfgang Klaue, Eva Orbanz, and many others, discuss the key topics and many challenges faced by the global community of film archives from the mid-1970s onwards. The recordings now available online thanks to the FIAF-IULMIA partnership complement the ever-growing collection of written and photographic archival documents digitized and made accessible on the FIAF website over the last five years.
For further information on this digitization program, please contact Christophe Dupin (c.dupin@fiafnet.org) or Rachael Stoeltje (rstoeltj@indiana.edu).