A Season of Classic Films: Free screening of She Didn't Say No!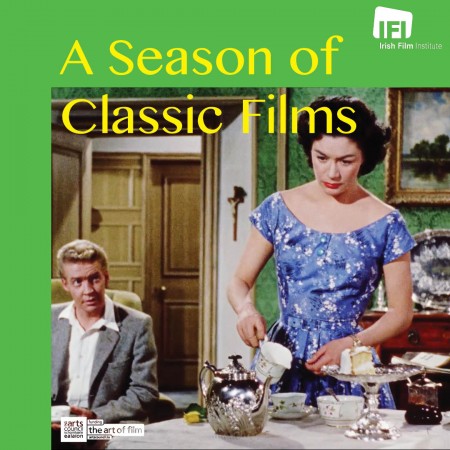 Digitised from the vaults of the IFI Irish Film Archive, the 1958 film She Didn't Say No! will be free to view worldwide on the IFI Player and via the IFI Player suite of apps between 15 and 22 April.
Based on the true story of an unmarried mother of six children by five different men (Moll McCarthy), the film was considered so immoral that it was banned in Ireland on its release.
The film is presented alongside an introduction from Head of IFI Irish Film Archive Kasandra O'Connell, and a pre-recorded post-screening conversation with scholar Ann Butler, contextualising the real story behind the protagonist and the original censorship of this controversial film.
The digitisation and free online release of the film is made possible thanks to A Season of Classic Films, an initiative of the Association des Cinémathèques Européennes (ACE). Twenty-two film institutions from all over Europe, including the Irish Film Institute, are taking part this year in 'A Season of Classic Films'. The initiative offers free access to European archival films, connecting the public with cinema history and the preservation of film heritage.
Speaking about the film's digitisation and digital exhibition by the Irish Film Institute, Kasandra O'Connell said, 'The IFI Irish Film Archive is delighted to be part of A Season of Classic Films which has afforded us the opportunity to digitise and share She Didn't Say No, a film that playfully comments on Irish societal attitudes to non-traditional family structures. It's also a beautifully made film employing a rich Technicolor palette and a strong cast of Abbey Theatre actors.'
She Didn't Say No! (IE/UK, 1958, 97′)
Director: Cyril Frankel. Producer: Sergei Nolbandof. Cast: Eileen Herlie (Bridget Monaghan), Perlita Neilson (Mary Monaghan), Wilfred Downing (Tommy Monaghan), Ann Dickens, Teresa Scoble, Lesley Scoble, Raymond Manthorpe, Niall McGinnis, Patrick McAlinney, Jack MacGowran, Joan O'Hara, Ray McAnally, Betty McDowell, Ian Bannen, Eithne Dunne, Hilton Edwards, Fred Johnson, Maureen Halligan, Harry Hutchenson, Paul Farrell, Shirley Joy, Viola Keats, Anna Manahan, Michael O'Brien, Liam Redmond, John Welsh. Director of Production: Robert Clark, Screenplay: TJ Morrison/Una Troy, DoP: Gilbert Taylor, Film Editor: Charles Hasse, Camera Operator: Val Stewart, Assistant Director: Frederick Goode, Sound recording: Leslie Hammond/Len Shilton, Music: Tristram Cary, Music conductor: Muir Mathieson, Executive producer: Josef Somlo. Copyright: Una Troy's family. Physical characteristics of first release: 97', Technicolor, sound, English. Film copy screened during A Season of Classic Films: New digitisation generated from the original A&B rolls.
Access link from 15 April: https://ifiplayer.ie/she-didnt-say-no/