Water, Climate, Migration
23-27 May 2020 at Eye Filmmuseum Amsterdam:
The 6th Eye International Conference hosts the 12th Orphan Film Symposium
The Call for papers can be found HERE.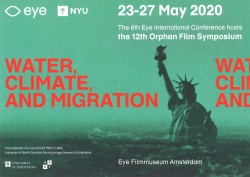 Eye Filmmuseum joins NYU Cinema Studies and the Tisch School of the Arts to host three full days and four nights of screenings and presentations in Amsterdam. "Orphans 12" explores Water, Climate, and Migration. Presenters will address these urgent but perennial subjects by examining how neglected works have represented, imagined, and recorded these intertwined phenomena throughout the history of moving images.
The annual Eye International Conference explores contemporary archival and academic debates, and in 2020 hosts the biennial Orphan Film Symposium. "Orphans 12" gathers archivists, scholars, artists, collectors, curators, preser­vationists, technical experts, students, cinephiles, and others devoted to saving, studying, and screening neglected audiovisual media.
Expert presenters, selected from an open call for proposals, will discuss and show rediscovered and newly preserved films from archives and collections around the world. The event will again showcase a wide array of rare and rediscovered orphan films - silent, experimental, independent, scientific, documentary, educational, newsreel, sponsored, nontheatrical, fragmentary, amateur, industrial, personal, incomplete, and other films from outside the commercial mainstream.
Questions?
conference@eyefilm.nl and orphanfilmsymposium@gmail.com
Updates at www.nyu.edu/orphanfilm and www.eyefilm.nl/conference