2022 Budapest Symposium

Session 6 : "The Cameraman's Consciousness" – Newsreels and ethical challenges

Budapest, 26 April 2022

Moderator : Brian Meacham, Managing Archivist (Yale Film Archive, New Haven, USA)

Please do not publish or re-use in any way any of these documents without prior permission of the speakers.
Digital expansion of Soviet Estonian newsreels collection: Challenges and new perspectives
Kadi Sikka, Preservation specialist and project manager (Film Archive of the National Archives of Estonia)
The Soviet Estonian newsreels collection consists of around 1 400 titles. This unique material reflects local life and people through 50 years, including the politically loaded and carefully staged footage of the first decade of Soviet occupation as well as more complex, even experimental pieces from the late 1960s onward. The production of Soviet Estonian newsreels reached its peak in the early 1960s when Tallinnfilm studio made around 50 items annually, thus offering great news value to the public.
Between 2020–2023, the Estonian Film Archive (EFA) is managing two large-scale digitization projects. The core of this newly digitized content comprises 140 hours of 35mm newsreels from 1940–1972. As a result, the majority of the EFA's newsreels collection will be digitized, cataloged and made accessible online.
More than four times busier digitization workflow is a challenge requiring extensive preparation work and research of existing film elements, but it also opens up new perspectives and provides an opportunity to analyze the content and its physical condition from a fresh angle. Unlike narrative features produced in Soviet Estonia, the original film elements of newsreels are physically preserved in Estonia, at the EFA. However, the existing sets of elements weren't as homogeneous as expected and needed an individual approach – in contrast to the nature of mass digitization. This presentation will peek inside the conservation lab, focus on the preparation workflow prior digitization and gives an insight into the mapping of film elements, selection criteria and condition survey processes.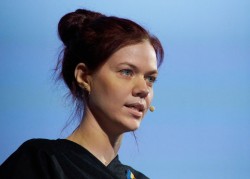 Laya Films: Production, manipulation and cataloguing the Catalan newsreels during the Spanish Civil War
Esteve Riambau, Director (Filmoteca de Catalunya, Spain)
Laya Films was the film division of the Catalan Government's Propaganda Commissariat during the Spanish Civil War. Directed by Joan Castanyer, this company generated a weekly newsreel from December 1936 to January 1939, in addition to about twenty thematic documentaries. Its aim was to reflect the information of the military front but also the cultural traditions threatened by international fascism; versions were made in Catalan and Spanish but also in French and English to demand the attention of international democracies. In turn, Laya Films was the result of an alliance between Catalan republicans and communists to counter the anarchist monopoly in the film industry. After Franco's victory, the material was moved to Madrid where, after the dictatorship, it partially reappeared and reassembled into thematic blocks that make it difficult to catalog in its original format. Complementary identification techniques and the location of new copies helped to clear up some doubts about one of the main collections of Filmoteca de Catalunya.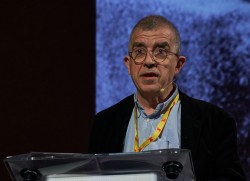 Film newsreels and human rights: challenges associated with cataloguing, access and distribution
Carol Sabbadini, Restorer, Conservator (Señal Memoria, Colombia)
Film newsreel collections kept by institutions responsible for the protection of the audio-visual heritage are frequently the most significant and outstanding documents of the archives of these institutions due to their great historical, political and cultural value, although at the same time they also present one of the most complex challenges in terms of cataloguing, distribution and use, primarily if we are talking about sensitive material which may result in actions violating human rights.
The Señal Memoria archive currently holds a remarkable film newsreel collection. Among the film newsreels of particular importance is Noticiero de las 7 (N7), an extremely important Colombian newsreel, which was regularly broadcast every morning at 7 am from Monday to Friday between 1984 and 2001. The significance of this film newsreel lies in its innovative format and content: it is a priceless heritage for the reconstruction of Colombia's historical memory.
Beginning with a case study of this newsreel containing approximately 7000 hours of audio-visual material, mainly original camera footage in Betacam and Umatic format, in the course of the presentation Carol Sabbadini covers the work done so far during cataloguing, the challenges arising during the processing and distribution process, which concerns the production of metadata, historical analysis, terminological research, the ethical dimensions of the use and publication of sensitive information in public ownership, which can be used in court proceedings as testimony, proof and evidential material.
Thus the aim of the presentation is to provide a forum for debate of the following questions: How is it possible to seamlessly catalogue and audit this content if there is no metadata? How is it possible to publish the historical memory in an ethically correct way and provide access to these types of documents without violating the rights of victims and human dignity?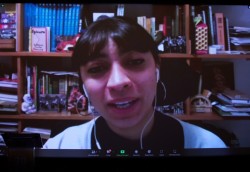 What does love mean to you? The ethics of saving and sharing Wendy Clarke's Love Tapes
Amanda Smith, Head film archivist (Wisconsin Center for Film and Theater Research, USA)
In Wendy Clarke's ambitious Love Tapes project, which ran from the late-1970s through the 1990s, participants are invited to speak on camera, for exactly three minutes, about what love means to them. In each of these brief segments we witness emotions foundational to the human experience: elation, longing, confusion, sadness, and everything in between. The speakers are unrehearsed and authentic, representing people of all races, ethnicities, genders, sexualities, and social backgrounds. The Love Tapes challenge our current understanding of the cinematic canon and use non-narrative methods to tell stories that are too often overlooked by mainstream productions.
The Wisconsin Center for Film and Theater Research is home to the Wendy Clarke collection, which includes 255 Love Tapes. The Center has begun a project to digitize all the video footage and create a website to share these stories publicly. Many questions have arisen during this work. What are best practices for creating digital files from ten different video formats? How do we honor the privacy of video subjects? How can we describe the content in a way that is both empathetic and practical? We look forward to sharing our progress and discussing these issues with members of the FIAF community.