Film Preservation & Restoration Workshop India 2019
Annapurna Studios, Hyderabad
8–15 December 2019
Applications are now closed.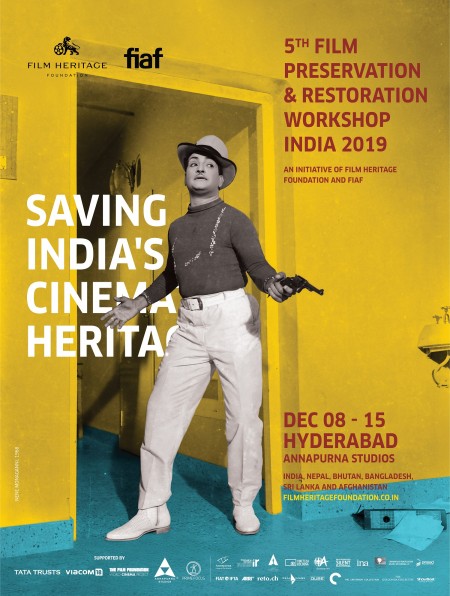 Film Heritage Foundation and FIAF are pleased to announce the fifth Film Preservation & Restoration Workshop India 2019 (FPRWI 2019) to be held in Hyderabad from 8 – 15 December 2019. Film Heritage Foundation (FHF) has earlier conducted workshops in Mumbai in 2015, in Pune in 2016, in Chennai in 2017 and in Kolkata in 2018.
Hyderabad is an ideal choice for the 5th iteration of the workshop being the home of the Telugu film industry that has a rich film legacy that traces its roots to many pioneers and luminaries of Indian cinema including Raghupati Venkaiah Naidu, H.M. Reddy, B.N. Reddy, Akkineni Nageswara Rao, L.V. Prasad, D. Ramanaidu, Ramoji Rao and N.T. Rama Rao to name just a few. This is an industry that produced some of the landmark films of Indian cinema like "Bhakta Prahlada" (1932), "Pathala Bhairavi" (1951), "Malliswari" (1951), "Devadasu" (1953), "Missamma" (1955), and "Mayabazar" (1957).
However, despite its impressive film history and much of their film legacy has disappeared. FPRWI 2019 would be breaking new ground in Hyderabad in creating awareness of the urgent need to save our film heritage as well as bringing training in film preservation to a new part of the country.
FPRWI 2019 is an initiative of Film Heritage Foundation and the International Federation of Film Archives (FIAF) in collaboration with Annapurna Studios and in association with The Film Foundation's World Cinema Project, The Academy of Motion Picture, Arts & Sciences, Fondazione Cineteca di Bologna, L'Immagine Ritrovata, Bundesarchiv (German Federal Archives), Cinemateca Portuguesa, Institut National de L'Audiovisuel (INA), San Francisco Silent Film Festival, FIAT/IFTA, Haghefilm Digitaal, A.V. Preservation by Reto, Media Inventions s.c., The Criterion Collection, Annapurna College of Film & Media, Prasad Digital Film Lab and ARRI. This initiative is supported by Tata Trusts, Viacom18, The Film Foundation's World Cinema Project, Annapurna Studios and Prime Focus.
Covering every aspect of film preservation, the workshop is considered the most comprehensive of its kind in the world and has become the model for FIAF's international training programs.
The intensive week-long workshop, certified by FIAF, covers both lectures and practical classes in the best practices of the preservation and restoration of both films and film-related paper and photographic material and is taught by a faculty of international experts from leading institutions around the world. Classes will be followed by daily screenings of restored classics from around the world.
Application procedure:

Applications are open until 20 October 2019. To apply, fill in and send the application form (Word document).
Application forms can also be downloaded from the FIAF website.
Applications are open to India, Sri Lanka, Nepal, Bangladesh, Bhutan, and Afghanistan.
Scholarships will be available for deserving local and international candidates.
Further information on the Workshop can be consulted on the Film Heritage Foundation website.
They support FPRWI2019: