Gyöngyi Balogh (1950-2021)
Our beloved colleague Gyöngyi Balogh died on 25 March 2021, in her 71st year, having courageously endured a lengthy illness.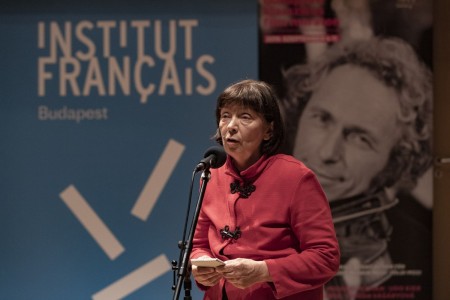 Gyöngyi Balogh was born in 1950. In 1971 she completed her studies at the Debrecen Teacher Training College, and in 1975 she graduated from the humanities faculty of education at ELTE University in Budapest. She joined the Hungarian Film Archive in the early 1980s, where she quickly found her true métier. As the fruit of decades of intensive research, she became one of the foremost experts on silent film, recognized internationally.
It is due to her sustained work over the years that, whereas in the mid-1960s we had just 12 Hungarian silent feature films in our collection, today we are the guardians of more than 50 silent feature films and 35 feature-film fragments. As the most eminent expert on pre-1945 Hungarian film history, she gave us an accurate understanding of the era of Hungarian silent motion pictures and its greatest exponents, such as Jenő Janovics, Sándor [Alexander] Korda, Mihály Kertész [Michael Curtiz], and Pál Fejős [Paul Fejos]. Through her endeavours, the early silent films made in Hungary by, for example, Mihály Kertész/Michael Curtiz, A tolonc / The Undesirable and Az utolsó hajnal / The Last Dawn, survive. Today they are the restored pride of our collection, and favourites at international festivals. She was also the author and co-author of numerous screenplays, as well as books and articles on film history (The History of Hungarian Feature Films from the Early Days to 1990; Illustrated History of Kolozsvár Filmmaking from 1913 to 1920; "Csak egy nap a világ...": Genre and Stylistic History of Hungarian Film, 1929-1936).
In the final years of her life, she returned to the Film Archive in order to assist our work and pass on as much of her vast repository of knowledge as possible. She was indefatigable in constantly helping the work of Hungarian and foreign researchers and film archive experts. She was a selfless and generous colleague who passionately believed in the younger generation carrying on what she had started. With her passing, the archive and film science have suffered an irretrievable loss.
Beyond her professional merits, Gyöngyi was a truly good person, to whom everyone turned with affection and who always inspired a good mood in everyone. She dealt with her illness and the question of mortality with great character. We had much to learn from her in this respect as well. We will miss her enormously.
György Ráduly
Director of the National Film Institute Hungary - Film Archive, Budapest