A Season of Classic Films: Discover Czech silent films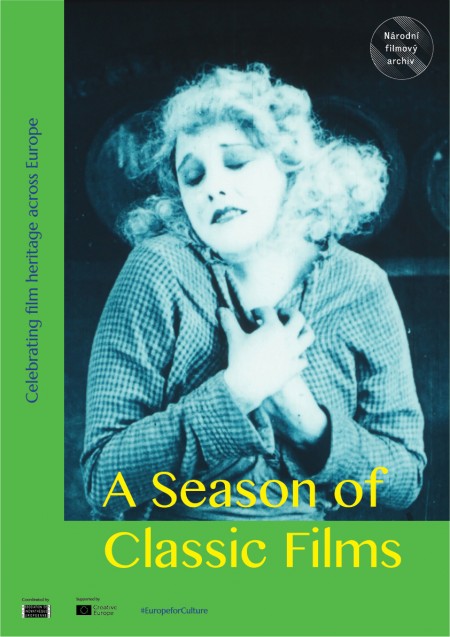 Twenty-two institutions from all over Europe, including the Národní filmový archiv, Prague, are taking part in the initiative of the Association des Cinémathèques Européennes A Season of Classic Films. From April to June, the Národní filmový archiv, Prague will offer free online access to seven silent films with contemporary music. The selection includes some of the first movies shot in the Czech lands, Karel Lamač's films and performances by Vlasta Burian and Anna Ondráková.
The first screening of the series on Thursday 8 April will be Karel Lamač's Bílý ráj (White Paradise) with music by multi-instrumentalist Tomáš Vtípil. Some screenings will be followed by live discussion on topics related to silent film and its presentation.
After White Paradise there will be a discussion (in English) on the topic of Classics Today. 'The term "classic" has lost much of its original meaning nowadays. We use it in contexts that have nothing to do with culture and art. For this very reason, it is important for us to return to the word "classic" itself, in order to clarify what the term means today. We talk about classics in architecture, music, literature - but what do we mean by this? And why employ this term?' asks the General Director of the Národní filmový archiv, Prague, Michal Bregant, who will lead the discussion with guests from various fields of art and culture.
The film screenings will be available on the YouTube channel of the Národní filmový archiv, Prague and on the Filmový přehled portal. A Season of Classic Films is a project of the Association of European Cinematheques (ACE) and is financially supported by the EU Creative Europe programme.
Programme
8 April
17:00 Bílý ráj / White Paradise (Karel Lamač, 1924). Music: Tomáš Vtípil.
19:30 Discussion: Classics Today
Register here for the live discussion
Moderated by Michal Bregant (Národní filmový archiv, Prague). Panelists: Paulina Reizi (Eye Filmmuseum, ACE), Gérald Duchaussoy (Festival de Cannes, Lumière Festival), Irena Lehkoživová (ViPer Gallery), Barbora Kundračíková (Museum of Modern Art, Olomouc), Tomáš Glanc (Zurich University), Jiří Tourek (Faculty of Humanities of the Charles University).
22 April
17:00 Films of Jana Kříženecký (1898-1911). Music: Jan Burian.
19:30 Discussion: Film restoration and the historical context of these early films [mod. Jeanne Pommeau]
6 May
17:00 Buď připraven! / Be prepared! (Svatopluk Innemann, 1923). Music: Wabi Experience.
20 May

17:00 Hříchy lásky / The Sins of Love (Karel Lamač, 1929). Music: Ožvold & Ožvold & Kratochvíl.
19:30 Discussion: Music for film
10 June
17:00 Milenky starého kriminálníka / The Lovers of an Old Criminal (Svatopluk Innemann, 1927). Music: Jan Burian.
17 June
17:00 Cikáni / Gipsies (Karel Anton, 1921). Music: Trio Neuvěřitelno.
24 June

17:00 Ukřižovaná / The Crucified (Boris Orlický, 1921). Music: Ondřej Dizzcock (Ondřej Bělíček).
19:30 Discussion: Acting styles in early cinema