"The Mosaic of Reality" – Collecting practices, small gauge and amateur film
Budapest, 25 April 2022

Moderator : Lydia Pappas, Interim Director and Curator (Moving Image Research Collections – University of South Carolina, Columbia)

Please do not publish or re-use in any way any of these documents without prior permission of the speakers.
Best practise: Collecting and archiving small gauge films together with the local community
Mário Jorge Alves, Research Associate (Oberhessische Museum Gießen, Germany)
Like many other cities in Germany, Gießens' architecture was largely destroyed during the Second World War and uncountable historic documents were lost in the fires. As it happens there are very few moving pictures of the time before, during or right after the War. "Das Kleine Filmbüro" in the Oberhessisches Museum (municipal museum of Gießen) aims to collect amateur films in order to restore a part of Gießens history. Therefore, it connects the small gauge films as such with the stories and knowledge of their owners. Together with the local community, films are being viewed on historical projectors, collected and documented. In many cases they are also being digitized. These films can then be used in the museums exhibitions and will in the future be publicly accessible for the curious and for researchers as well.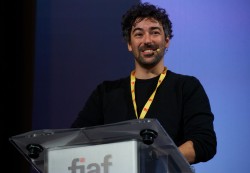 The Bernadine Bailey amateur film collection held by the Indiana University Libraries Moving Image Archive

Madeline Webb-Mitchell, Media Archivist (Indiana University Libraries Moving Image Archive, USA)
This talk will discuss a unique amateur film collection held by the Indiana University Libraries Moving Image Archive (IULMIA), including the challenges and ethical questions surrounding efforts to make the work of a female filmmaker and writer visible through preservation and access. Bernadine Bailey (1901-1995) was a travel writer from Illinois who documented her trips and supplemented her writing through the use of small gauge film. Bailey's films were donated to IULMIA after they were discovered in a barn by a historical society in her hometown. The discussion centered around the attempts made to describe and contextualize content (including some culturally sensitive content) from 109 films with limited access to ephemeral material during the COVID-19 pandemic, efforts to interpret Bailey's perspective as a Westerner travelling the globe, and the experience navigating copyright in order to make visible the work of this groundbreaking female filmmaker.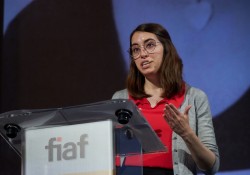 Amateur Filmmaking as Local History: the Community Documentary in Taiwan
Pin-Chuan Chen, Director (Cultural Division at the Taipei Representative Office in the UK)
In the 1990s, the Taiwanese government launched an initiative called the Community Development Project, which encouraged people to record local oral histories, landscapes, environmental issues, and so on, using the then-innovative technology of household digital video cameras. The results of these efforts were collectively referred to as 'Community Documentary'. Through encouragement from the public and private sector, Community Documentary workshops provided the basis for a burgeoning collective movement. Since the 1990s, this accumulation of community-based videos has provided an alternative way to document environmental change, especially in non-urban areas. However, most of these community documentaries have been overlooked by mainstream media in Taiwan. As a result, this particular subgenre of non-feature film production has not been collected by official archives; instead, they remain the possession of the individuals who create them, or the organisations that hosted the workshops.
This presentation aims to introduce the concept of Community Documentary in Taiwan, and argues for the importance of collecting these somewhat inaccessible and disparate images, so they can be transformed into a publically-accessible database. These community-based documentaries form an invaluable resource with which to recreate images of an environment that is fast disappearing.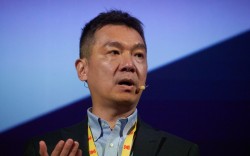 Immigration and other stories - Family films from the Film Museum of Argentina: how to handle them?

Lucía Ciruelos, Film Archive Volunteer (Museo del Cine Pablo Ducrós Hicken, Buenos Aires, Argentina)
The Film Museum in Buenos Aires hosts a collection of home videos, family, amateur and experimental films considered to be a valuable heritage although they are not separately categorized. The presentation demonstrates how films of this genre in the museum are catalogued, archived and evaluated in the Hijos de Entienza ('Children of Entienza') collection. This collection comprises approximately 15 films presenting the life of a Galician society in Buenos Aires between 1920 and 1950. Argentina's largest wave of immigration is associated with the Galicia autonomous community of Spain, which is the reason these films are of such incredible historical significance. Hijos de Entienza, which also won funding from the Buenos Aires ministry of culture, serves as a starting point, with the help of which we lay down the foundations for working out a protocol (or several protocols). All this allows the cataloguing, evaluation and presentation of this priceless artistic, historical and cultural heritage in a unified way.