Manuel de catalogage des images animées de la FIAF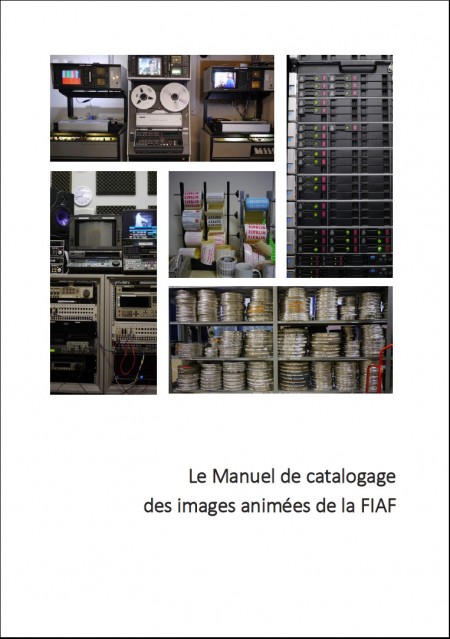 La version française du Manuel (fichier PDF) est maintenant disponible ici.
Vous pouvez télécharger d'autres versions linguistiques ci-dessous.
Anglais : Download the Manual (PDF file) here.
Espagnol : Descargue la versión en español del Manual (archivo PDF) aquí.
Allemand : Laden Sie die deutsche Version des Handbuchs (PDF-Datei) hier herunter.
La Commission de catalogage et de documentation (CDC) de la FIAF a le plaisir de mettre à la disposition des catalogueurs et des spécialistes des archives cinématographiques en territoires francophones la version française du FIAF Moving Image Cataloguing Manual (2016). La traduction a été réalisée par Viviane Thill, accompagnée par Eric Loné, Maryline Monnerat et Hélène Kaizer, membres du Comité scientifique de la traduction française du Manuel.

La traduction française du Manuel a été réalisée dans le cadre de contrôles de qualité terminologiques stricts et dans le strict respect de la version originale anglaise. Une sélection minutieuse des termes équivalents les plus appropriés en langue française a été effectuée, avec la participation de spécialistes francophones de la description, du catalogage et de la manipulation de matériel cinématographique.
Le Manuel de catalogage des images animées de la FIAF est le résultat de nombreuses années de travail et de collaboration avec de nombreux professionnels du domaine. Il ne s'agit pas d'une simple révision des Règles de catalogage de la FIAF pour les archives cinématographiques (1991), car il fallait tenir compte des changements intervenus dans les technologies de l'information au cours des deux dernières décennies, et s'aligner sur les normes existantes et émergentes en matière de métadonnées. Bien qu'il soit spécialisé et qu'il s'inspire de concepts et de normes modernes tels que FRBR (Functional Requirements for Bibliographic Records), EN 15907 et RDA (Resource Description and Access), il est conçu pour être compatible avec une grande variété de structures de données. Il fournit des graphiques, des arbres de décision, des exemples et d'autres outils pour aider les experts et les non-experts à effectuer un catalogage réel des collections d'images animées.
Notez que la Commission de Catalogage et de Documentation (CDC) est actuellement à la recherche de commentaires de la part de la communauté. Nous souhaitons connaître l'expérience des utilisateurs avec le manuel et les problèmes qu'ils ont rencontrés, ainsi que leurs suggestions pour l'améliorer. Veuillez participer à l'enquête sur le Manuel de catalogage des images animées de la FIAF.
Si vous avez d'autres questions ou des commentaires à apporter, veuillez contacter la Commission à l'adresse suivante : cdc@fiafnet.org.
Bon catalogage !

Hélène Kaizer, Eric Loné, Maryline Monnerat et Viviane Thill
Comité scientifique de la traduction française du Manuel

Avril 2022