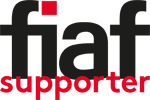 SD CINÉSERVE
20, avenue d'Ivry
75013 Paris
France
SIRET 491 553 699 00019

Individual Contact:
Serge DOUBINE
serge.doubine@orange.fr
T: 33-1 45 85 04 31
M: 33-6 23 55 51 00
We are proud to have joined the group of FIAF Supporters. Our range of products includes:
Stabilized and vented plastic film cans
Film cores
Film leaders
Pump-activated solvent dispensers
Film splicing tapes
Film splicers
Acid detection strips for nitrate and polyester films
Handheld magnifiers
Molecular sieves
We have become a major supplier to the French film archiving community.
In achieving that, we have been, sort of naturally, called upon to communicate with the audio archiving community which, in turn, has taken us back to our original field of activity: analog audio.
So we can now provide a lot of vintage products: colored leader tape, splicing tape anti-magnetic scissors, magnetic viewer MV-95 and recently, last, but not least: 1/4" inert plastic boxes for archiving analog tape.